About Us

Legacy Renove, Inc. is an independent arm of Global Decor Group, operating out of Hongkong and Manila.

1. Management and Product Development
The offices, product showroom and main factory are jointly located at a large facility on Ortigas Avenue Extension in Cainta, Philippines (just East of Metro Manila, - about 30 to 45 minutes by car from Ortigas or Makati respectively). The company is very "Product Oriented" - the principal plant is one of the few more-industrialized operations in the Philippines Handcraft industry, and was purpose designed and fitted out in 2007 for our company.
The company is led by a mix of Filipino and expatriate personnel, and product focus starts with the largest product development team in the local industry - between 40 to 60 artists depending on the season. All senior personnel are involved in development with varying input covering design, costings, processes, packaging, and documentation.
2. Operations
With a capacity of approx. 12 TEUs of merchandise/shipments a week at peak output, we are able to efficiently produce orders for a wide range of clients, varying from smaller boutique importers on all continents, to major retailers in the USA, Europe, Japan, and South / Central America.
We like to emphasize the personality of our product, and this comes with harmonizing designs to the precise needs of our clients, whether they be licensed product, OEM or designs on our initiative. Over 4,500 new items are developed per year.
The company has undergone rigorous technical and social audits by such agencies as Li & Fung, Connor Group, and Omega Compliance. We have also been CTPAT compliance tested.
Our Quality Control works under the Operations department, and is tasked with primary adherence to master product. The final check - post packing - is done by Quality Assurance under the Marketing department before shipment is authorized.
Our products are 100% finished, final QC'd, packed, and QA checked in OUR facilities. We do not subborn this to suppliers and sub-contractors.
3. Product Media
LRI (Manila) specializes in metal art, often highlighted with laminated "capiz" shell finishes, and natural material accents. Specific examples can be seen on our Products page. As we try wherever possible to make our items useful as well as beautiful décor, we also use local and imported glassware for votives and bowls, and other assorted practical uses. We have LED products, clocks, and magnets.
4. Social Responsibility
We direct and participate in a number of social programs, in communities in the nearby towns of Cainta and Taytay, as well as far afield in Payatas and Bulacan. Much of the primary level assembly work for 'capiz' and natural materials is passed around communities, and this livelihood work is much sought after. There is also in-factory training by skilled artists and airbrushers, broadening our local community's ability to earn more.
5. Trade Shows
We regularly participate in Manila FAME (April and October) as well as Hong Kong MegaShow 1 (October). Other Show participation (South Africa, Brasil, etc) is on a case-by-case basis. Please contact us for details.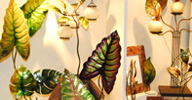 Corp. Address:
SEB Commercial Complex, Km 23, Ortigas Ave. Ext., Taytay, Rizal, PHILIPPINES
Tel No.:
+(632) 660 2735 / 36 / 38
Fax No.:
(632) 660-8283
E-mail:
info@lri-decor.com